BIOCEV Director
Prof. Pavel Martásek, M.D., D.Sc.
The BIOCEV Division was established at the Institute of Molecular Genetics in September 2009. Its main purpose was to organise the preparation and construction of a new research centre of excellence – the Biotechnology and Biomedicine Centre of the Academy of Sciences and Charles University in Vestec – BIOCEV. It is a joint project consisting of six institutes from the Academy of Sciences of the Czech Republic (the Institute of Molecular Genetics, the Institute of Microbiology, the Institute of Physiology, the Institute of Experimental Medicine, the Institute of Biotechnology and the Institute of Macromolecular Chemistry) and Charles University, which is represented in BIOCEV by two faculties (the Faculty of Sciences and the First Faculty of Medicine).
The BIOCEV Centre is based on the three pillars of the knowledge triangle.
A research programme that results in high quality research outcomes is superior to any other programmes. It covers five basic areas: functional genomics, cell biology and virology, structural biology and protein engineering, biomaterials and tissue engineering and the development of diagnostic and therapeutic procedures. This research programme is supported by six top research infrastructures and service laboratories: The Czech Centre of Phenogenomics, Imaging Methods, the Centre of Molecular Structure, OMICS – Genomics, Proteomics and the Cryobank.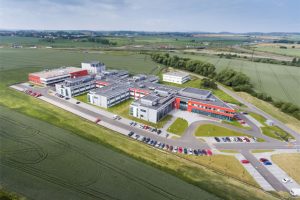 The second BIOCEV pillar is putting of research results into practice. The centre also focuses on intensive cooperation with the commercial sector and provide intellectual property protection and its further use.
The third pillar is the training and education of postgraduate students, which is provided under the current study programmes at Charles University and new accredited programmes in biotechnology and biomedicine. In addition, BIOCEV is planning specialised international courses for Czech and foreign students and young scientists. The new centre will also train specialists in advanced biotechnology methods.
BIOCEV is a member of major European consortia such as ESFRI (the European Strategy Forum on Research Infrastructures), EuroBioImaging, INFRAFRONTIER and INSTRUCT. BIOCEV was incorporated into the research environment even before it was started, and this fact documents the quality of this future research centre.
BIOCEV is located in Vestec (Central Bohemia). By 2020, it will have hired as many as 600 new employees and 250 pre- and post-graduate students. The centre was financed from the European Regional Development Fund and the Operational Programme Research and Development for Innovation. The total costs were CZK 2.3 billion. Construction began in 2013 and officially ended in December 2015. The center's full operation was officially launched on 16 June 2016 in the presence of many Czech and foreign guests from different areas of science and politics. For more information, please visit www.biocev.eu.
Promotional Videos (in Czech)
Last change: August 25, 2016