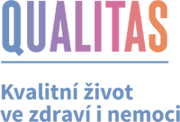 V rámci výzkumého programu Qualitas garantovaného Akademií věd České Republiky studujeme genetickou podstatu klinicky významných onemocnění. Především se zaměřujeme na predispoziční faktory přispívající k rozvoji nádorových onemocnění a dále na studium molekulárních mechanismů umožňujících udržení stability našeho genomu. Programu QUALITAS je novou platformou pro spolupráci mezi laboratořemi zabývajícími se základním a klinicky orientovaným výzkumem v oblasti molekulární genetiky nádorů.
Events
Seminář: "Molekulární genetika nádorových onemocnění"
Místo a datum konání: ÚMG AV ČR, 3.12.2015

Konference: Evidence-based Network for the Interpretation of Germline Mutant Alleles – meeting 2016
Místo a datum konání: ÚMG AV ČR, 27-29 dubna 2016

Více informací – https://enigmaconsortium.org.
Last change: August 29, 2017