Satellite Meeting – Innovative Approaches: READY-TO-USE
Date & Time: 26. 6. 2023 - 27. 6. 2023
Location: IMG building
Go beyond theory and experience hands-on implementation of advanced technologies like Telight LiveCodim and Leica MICA.
---
Immerse yourself in more than just the latest developments in light microscopy. Elevate your skills and knowledge with Innovative Approaches: READY-TO-USE, the enlightening satellite meeting set to follow the EMBO Practical Course: Super-resolution Light Microscopy.
Partake in lectures introducing fresh technologies: HoloMonitor, NIKON+Crest Optics, Dragonfly 600.
Dive into a series of captivating lectures and make sure to reserve your place for a hands-on practical session. Enhance your understanding and practical application of these pioneering systems. Engage in cutting-edge discussions and leave equipped with ready-to-implement insights. Don't miss this essential event.
Admission is free of charge.
Looking forward to seeing you in Prague!
Organizing Team
More information – https://course.img.cas.cz/slm/.
Organizers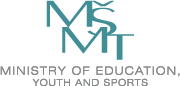 Sponsors